pinktamao
Hi, people, I hope you are all fine! ^o^
This evening I'd like to present you a typical pastry of my place, called
bissola
. The name probably won't tell anything to almost anyone, either to those Italian friends that aren't exactly from my same city.
It is traditionally baked for
Befana
,
a celebration of January 6th
, in which children receive gifts in their socks picked up to the fireplace, full of candies if they behaved finely during the year, charcoal if they haven't been good.
This
bissola
is a big pastry, more or less 30-35 cm (12-14 inches), but it can be even bigger and smaller, usually shaped to represent an old woman (reminding the
Befana
, indeed) with a stick and carrying the sack with the gifts for the children. Can be decorated with colourful chocolate buttons and treads of icing or chocolate to draw the outlines. You can find it in various shapes other than the old lady that's the more traditional, like the old man, the horse, or one of the gift-bringers astride the horse. These are just the more frequent, you can find even a lot of other ones,
some example here
.
In the last years, connected with the increasing popularity of the Halloween's celebrations in Italy,
bissola
has stated to be made even for this day, shaped like pumpkins of various sizes. The pastry, differently from the ones for
Befana
, is coloured to remind of the coulour of the peel.
The last Wednesday we went out for a birthday party to a restaurant and we had some of these for free at the end of the dinner. It seems the chef of the restaurant is the brother of a pastry cook, so they were there for the costumers. They were very small (something like ~10 cm/4 inches) but the taste was awesome as usual!!! PX At first I thought the decorations were made of licorice, and it sounded odd to me, instead it was dark chocolate. Nice! :D
I put a couple of pictures, the first one still inside its wrapping.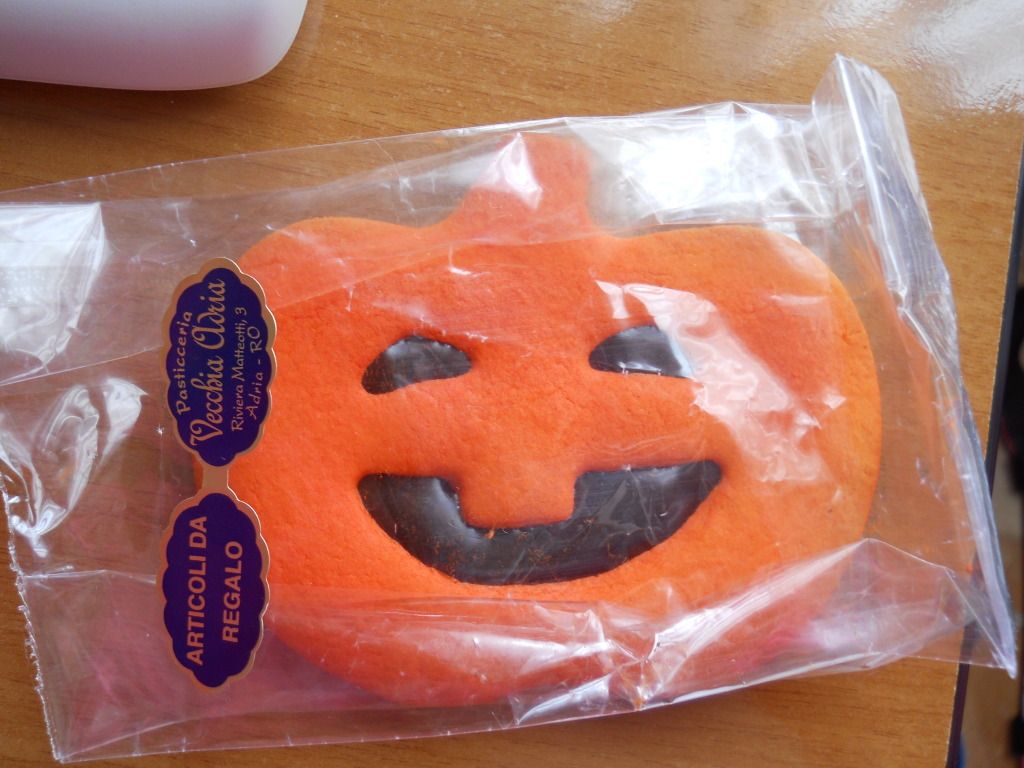 Very cute face, don't you think! <333 And so yummy as well, I ate it in few minutes... orz I'm waiting for the next batch, now! \o
See you, guys! :D